The world is a book, and those who do not travel read only a page. Saint Augustine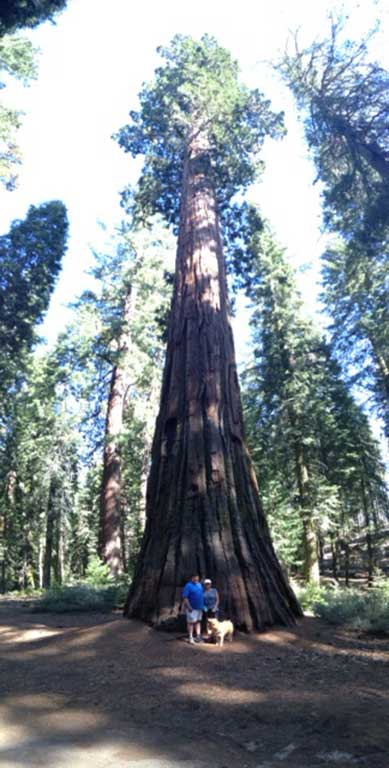 In the past when I have traveled as a visually-impaired person, I often experienced overwhelming fatigue, anxiety, and even irritability while trying to adjust to new surroundings. But the recent trip to California with my husband was different. Ahhh…I am still basking in the glow of its sweet sensory memories.
Kevin is an excellent vacation planner and travel companion. We just returned from visiting Yosemite National Park, San Francisco, Muir Woods, Carmel, and Sonoma Valley. This trip turned out to be one of my favorite adventures with such a variety of experiences!
From the moment we arrived in California, I sensed the differences. The air was cool and crisp with a woody herbal scent. The birds sang different songs. Trees had unique silhouettes and shades of color. The sky was bigger and bluer than in Georgia. Flowers appeared to be bold and varied. There were ever-present views and briny smells of the ocean, with food and people from all parts of the world.
We enjoyed hiking among the giant Sequoia, picnicking and wine-tasting in lush wine country, riding the rickety trolley car, shopping in the "hippie" district in the city, lunching on dim sum in colorful China Town, sipping tea in the peaceful Japanese gardens, and meandering in the serenity of Cathedral Grove among the regal Redwoods.
We walked the dog-friendly beaches with my guide dog Sophie, breathing in the fresh, crisp air on the Coastal Trail. Daily, we feasted on local seafood and wines.
As visually-impaired people, we sometimes have to find a different way to do things and take our time-but what joy there is in success and the experience.
I have learned to relax and accept my limitations. I try to pace myself, yet challenge myself at the same time so as not to miss a worthwhile attraction.
'Where ever you go, go with all your heart.' Confucius
Kevin and I chose to take a two-mile "moderate" hike to Glacier Point in Yosemite. It took us a few hours to painstakingly navigate a rocky course to reach a spectacular summit view. My guide dog was an amazing and attentive partner as she moved me through the obstacles of rocks, logs, and roots. My husband patiently gave me verbal instructions and a steady arm when needed.
It took teamwork and concentration as the three of us plugged along the path. The payoff was arriving at the highest point in Yosemite, surrounded by unmatched grandeur; sparkling granite cliffs, terraced waterfalls, and a feeling of infinite openness and space. It was exhilarating and energizing! And the satisfaction of accomplishment spurred me onward.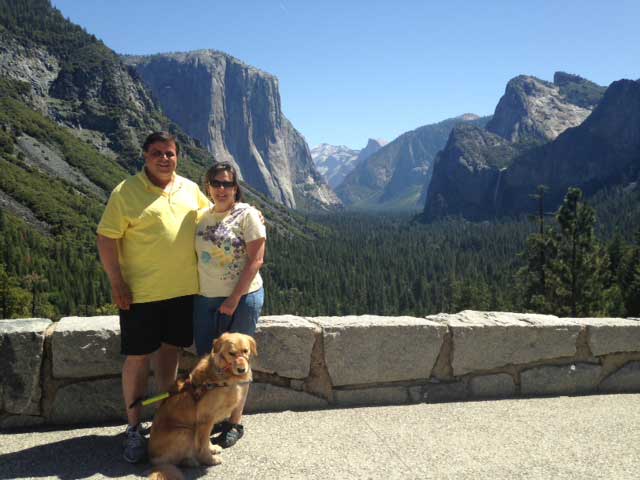 A special benefit of this trip was the opportunity to truly enjoy the company of my husband. With the distractions of home, work, and other responsibilities left behind, we were able to tune in to each other fully and refresh ourselves together. Long walks and talks on beautiful beaches can rejuvenate the mind, body and soul.
I discovered that each day I could not wait to get up and go, as it meant more time with Kevin. His undivided attention was luxurious and the lazy days together felt extravagant.
So travel is also about the joy of being with your loved ones. All the adventures, sights and experiences are richer when shared and the memories sweeter when made together.
Travel is about appreciating the differences and variety which the world has to offer. I may not "see" all the sights, but I can employ all of my senses to enrich my experience and celebrate the joys of travel. It is about being there and being present.
'Certainly, travel is more than the seeing of sights; it is a change that goes on, deep and permanent, in the ideas of living.' Mary Ritter Beard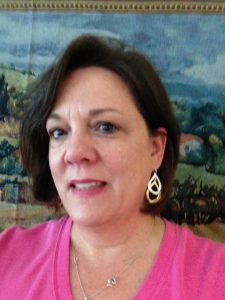 Audrey Demmitt lives in Peachtree City Georgia, south of Atlanta. She is a retired nurse who enjoys exploring new places, hiking, tandem cycling, and writing. She shares her adventures as a visually impaired sojourner, navigating life with Retinitis Pigmentosa on her blog at:
VisionAware (link to peer advisors stories)
Copyright © 2014 Audrey Demmit
you may also like to read
Mobility Matters – Stepping out in Faith – International White Cane Day