"Our battered suitcases were piled on the sidewalk again; we had longer ways to go. But no matter, the road is life."    Jack Kerouac
A journey of a thousand miles must begin with a single step but what happens when you are striding out on distant shores and suddenly find the next step you had planned so perfectly, only leads you to the edge of change?
On our trip to Western Australia, unseasonal storms with wild winds and pounding rain threw all our travel arrangements up the swollen creek and left my travel companions and me having to accept change and appreciate the journey we hadn't planned.
We learned a few valuable lessons that will help ease the passage for next time and I thought you might like to see if these insights are part of your travel kit too…
8 Tips for being a Happy Traveller
Tip 1: Travel light
You don't need to pack as much as you think you do. If we had travelled light and left behind the kitchen sink, the burden of trailing so much luggage would have been usefully lightened. We had hired a comfortable car for our two week stay in Perth to tour the surrounding area but when the worst storms hit the state, we were forced to accept the only vehicle left in the fleet on offer – a 4WD emergency type vehicle with a dual cab and open tray. So all our baggage had to ride in the back seat with us to save it from being rained on or stolen.
I am that sort of traveller who packs her suitcase two weeks in advance, leaving plenty of time to consider and reconsider clothing choices for sun, wind and rain: day wear and dressing up for any evening outings. But because I ended up wearing the same jeans for days with a coat to stay warm, I learned a valuable lesson about packing too many choices: the traveller's wardrobe doesn't need to be a mini reproduction of the one at home.
I actually survived in very few changes, most of my clothes were not even unpacked – so guess who will be packing less next time and have a much lighter spring in her step…
Tip 2: When you feel comfortable, you'll ride the wave of change
I noticed on our travels that when the three of us were feeling comfortable, well fed and well rested, we solved problems with more efficiency. One of the challenges of travelling however, is moving out of one's comfort zone, sleeping in strange beds and finding affordable food a game of pot luck (especially when trying to please a ravenous teenager).
Our solution was to start the day well by taking along our own breakfast cereal to get us up and running. This also saved $45 each morning, bringing a smile to our travel wallet.
Tip 3: One little luxury can save your life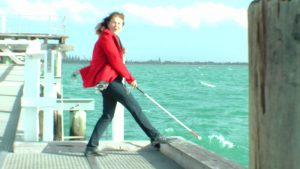 We all have our own personal eccentricities, little things that we do that are engrained in our way of being. But when you are travelling to foreign shores, there is no guarantee that your accommodation will provide you with certain comforts you find difficult to live without.
I know, "When in Rome, do as the Romans" but unless I can percolate a cup of fresh coffee before breakfast, beware – I'm not a happy camper.
To avoid compromising my morning experience, I just so happened to packed my own portable coffee plunger (and favourite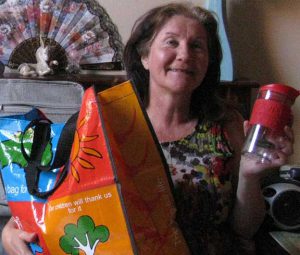 coffee powder) in a mug wrapped up in a clean tea-towel – it not only saved time waiting for my companions to get up and begin our day, it saved heaps of money and mental sanity – mine and theirs!
So if there is one small comfort you can squeeze into your baggage allowance, do take it with you – it may just save your life!
Tip 4: Money savers like these…
You most probably know to pack an empty water flask or bottle so you can fill it up in places where the local water is drinkable but how about these other money-saving items?
· as soon as possible, find a store to purchase snacks like nuts, muesli bars, local fruit, etc. to help you go the distance when touring. They give you a boost of extra stamina that keeps your emotions intact and saves you money by not having to stop at a café or restaurant every time the little crocodiles say they are hungry.
· a clean tea-towel was often used to protect our lap when having to eat in the car when it was raining or to wipe away condensation on the windows. A cloth is not something one finds easily so take one with you and you can wipe any dirty surface or have for cleaning your hands
· buying our own bottle of Margaret river wine meant we could enjoy a drop at night without having to pay a fortune per glass at a bar or vineyard
· Harry never travels without his Swiss army knife. It can slice fruit, open a bottle of wine, pull out a prickle or splinter and even unscrew something. Bonus tip: don't pack a gadget such as this into your boarding luggage unless you want to gift it to airport security staff. Tuck it away in your suitcase until you arrive at your destination and then swap it over to your day bag or coat pocket.
Tip 5: Touring the sites, rain, hail and shine
We had booked two days on Rottnest Island, just off the coast of Perth but due to the worst storms in fifty years, all ferry boats were cancelled and no one could move on or off the island for days. We had to reschedule our booking, accept the unforeseen circumstances and turn the experience into a win-win somehow. Quite simply, we were forced indoors to make alternative sightseeing plans.
We discovered the Perth Mint where Harry and Mike were able to watch a fascinating demonstration of how our Aussie coins are turned into currency by melting metals in a scorching hot furnace. After the presentation, we were given the opportunity to hold an eleven kilogram gold ingot bar, watched by several security cameras, of course. Then my favourite part of any tour, visiting the gift shop. Lo and behold, we were dazzled by an elegant collection of handmade gold jewellery and other 'affordable' souvenirs.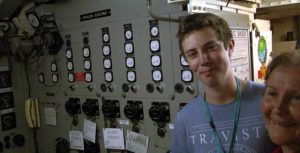 On the following wet weather day, we booked a guided tour on a submarine in Fremantle. I soon discovered that the enclosed space was perfect for a visually-impaired visitor as we squeezed through the restricted spaces within the metallic cocoon because my happy hands could roam freely to touch EVERYTHING within a confined radius.
On other wet days, we popped into a vineyard to taste wine, walked through an indoor wild flower exhibition, meandered through an aromatic chocolate factory and wood carving exhibition.
Tip 6: Be friendly, go out and meet the locals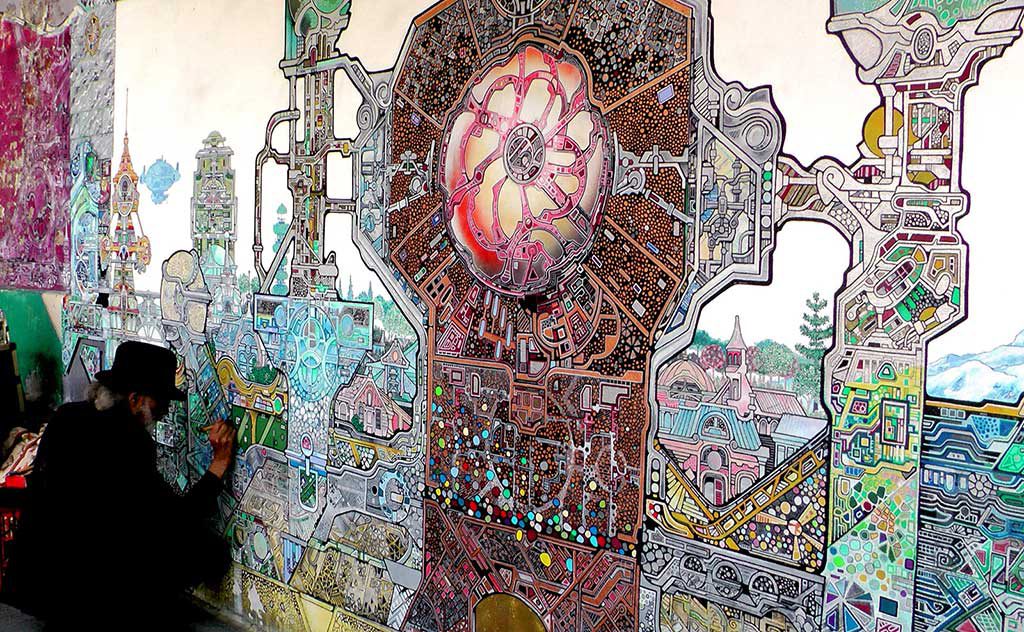 One of the prettiest places we had the opportunity to stay in was a small town called Denmark, 400 kilometres south of Perth. Harry had the foresight to book five days in a self-contained cottage on a lovely property but we were not expecting we would be sharing it with a herd of noisy sheep who ran past our front door at 6 a.m!
It was the other guests we were delighted to make acquaintance with – several alpacas, a miniature pony and a tame female kangaroo with a shy joey in her pouch.
Thanks to Harry's persistence on a two hour phone call, he was able to shift our usually non-refundable booking so that we did get to spend one night on Rottness Island. There, we met one peculiar local resident scrounging around our café table – a creature known as a Quokka. So you just never know how entertaining your neighbours might be!
Tip 7: Stash some cash
Living in a city, we are used to having access to ATM machines and offering our bank cards to pay for goods and services. But in out of the way places, it is worth remembering that cash is the only means to your spending end.
Keep a sensible amount of cash available at all times, safely tucked away, not a large amount but enough to carry you through because some remote places don't have the facility to use Internet-reliant ATM machines.
Tip 8: Go and get lost!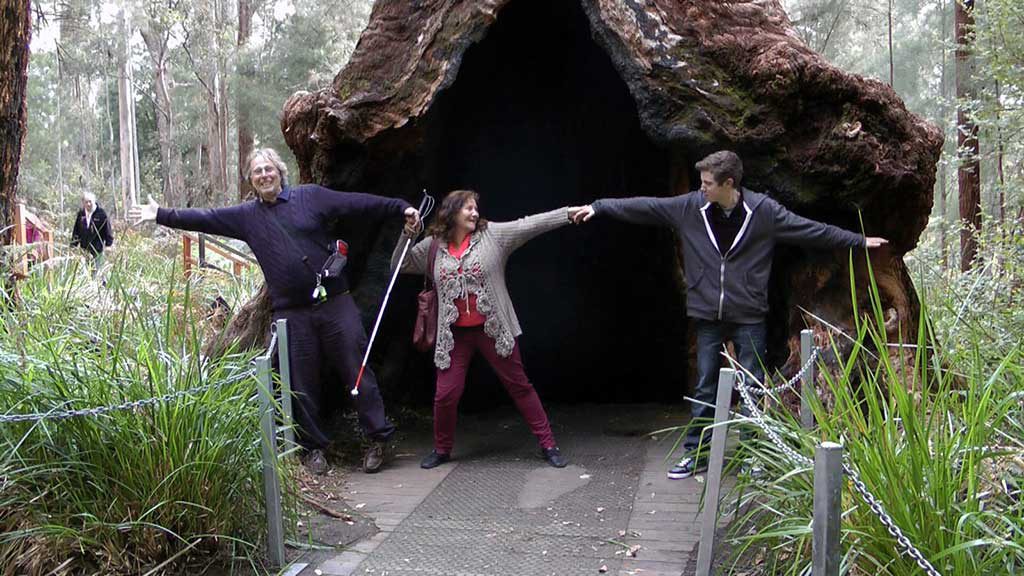 That's right! Don't be annoyed if you find you have somehow strayed off course and are on a detour, a mystery ride – unless you are supposed to be at the airport, in which case, you have permission to PANIC!
Often detours can lead to the most wonderful unexpected experiences, off the beaten track explorations and most memorable holiday souvenirs.
On our way back from Albany to Perth, Harry took a detour which passed the front gate of a art gallery of beautifully crafted handmade glass. Following a spontaneous decision to take a look, we ended up talking with the owners for well over an hour, bought several pieces of their stunning unique blue glass panels and a few weeks later, once we returned home, Harry and Mike made a brand new door to incorporate these pieces of glass art as our private stained-glass window!
"Not all those who wander are lost." J. R. R. Tolkien
How do you turn the unexpected into a magical holiday adventure – ?
Got any other tips – we'd love to hear from you!

You might also like to read…
A Detour from Army Reserve by Guest Gal Lesham
Paw Wheel Driving with My Guide Dog
Copyright © 2014 Maribel Steel
Photography Copyright © 2014 Harry Williamson