It hadn't been in my plans to go into the city last Friday. It was going to be a quiet day at home. The previous week had been busy, preparing to co-present my first webinar for the Hadley School for the Blind (USA). After our well-received presentation, I thought I could reward myself with time out from an organised schedule.
As a writer, I usually plan my days around the next story: a new chapter, a guest post, a blog, a writing competition or work on answering emails and networking online. As a mother and wife, I slot in time for cooking, cleaning, gardening and for chasing myself from one home chore to the next while keeping an ear on the time from my talking watch to stay on schedule and prepare my family's evening meal so we can enjoy that special time together.
From morning to dusk, I am accustomed to allotting the hours to these various tasks. Time for writing, time for sorting, time for leisure lunches with friends, time for whatever is on my 'to-do' list!
So when I learned that I had to quickly get ready to make a trip into the city when an appointment had been moved to my precious day off, I felt challenged by the need for spontaneous action.
As a visually-impaired person, I'm not always comfortable having to chop and change my carefully planned agenda, to shift gears quickly and launch into the unknown. Establishing order is one of my survival techniques, although being blind, when out and about in a sighted world, I do have to expect the unexpected.
Luckily, there is a wonderful man with whom I share my life, who is a master of the art of spontaneity. Harry shows me that sometimes, one has to let go of one's magnificently organised plans and jump into the world of chaos to experience the true magic of the moment, and be unattached to outcomes.
A new plan emerged: as we both work from our studio home, I'd invite Harry to come into Melbourne with me for the day
"Sure," he said. "We can just do whatever you like."
So with a spontaneous spring in our step – we set off for the city.
"I'm always doing that which I cannot do, in order to learn how to do it." Pablo Picasso
What I learned from our unplanned adventure was the reminder that there is always beauty in the moment, these memorable days when we allow the detour to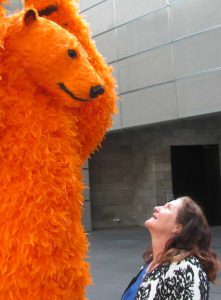 take us to a destination unknown. Letting go of the need to organise every aspect of the day allows for something truly magical to happen –and we stumbled across a psychedelic art exhibition I could actually see!
In the heart of the National Gallery of Victoria, an arresting pack of giant fluoro-coloured polar bears were playfully poised in Federation Court. These eight life-size sculptures by contemporary Italian artist, Paola Pivi, are a stunning installation, daring the visitor to edge closer and interact with these flamboyant creatures made of urethane foam covered in vibrant feathers.
I hardly ever get the opportunity to SEE artwork under bright lights, let alone in such high contrast, so I was giggling like a little girl and had to say hello to each polar bear in turn. They stood out clearly against the grey basalt walls of the gallery, dancing before my eyes!
"My work is never purely visual. When an artwork is really powerful and beautiful, you don't even need to look at it. You just glimpse it from the corner of your eye, and there's something in the space that is beyond the visual. It's not about observing, it's about feeling." Paola Pivi.
This whimsical, surrealist installation Pivi has called "You started it, I finish it" evoked such joy in my heart, several days later, I am surprised to find myself still glowing from the experience.
Treasure in our hands
The next unexpected treat came when Harry managed to coax me away from my new psychedelic friends and took me into the shop attached to the gallery. It was as if part of the exhibition inside the NGV, with its quirky collection of Italian and Japanese hand-made trinkets, miniature ceramic sculptured bowls and dainty Eames chairs in metal and leather had been put on display especially for inquisitive art-loving hands like mine.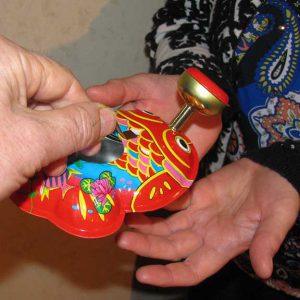 We spent a delicious hour combing through the shelves for beautiful pieces of textured art that I could touch. I was in heaven! Naturally we were extremely careful while feeling the souvenirs as we have become experts in the art of touching works of art on many gallery and shopping excursions – seeking out the magic of the moment.
Sharing artwork is like a graceful Tai-Chi dance between our hands as Harry moves slowly and lowers the object into my open palms, releasing his grip the moment my fingers confidently close in to grasp the object like a clam.
Waiting patiently, Harry offers more verbal clues until, fully satisfied to have 'seen' the artwork, I surrender the piece back to him, our hands in an exchange of graceful movements.
"Want to see something else?" he asked.
"Of course!" I beamed. By being able to embrace uncertainty, I gained a beautiful insight. I allowed time to unfold in her own unique and whimsical way. By not always taking hold of every hour in the day, time became full of wonder and unexpected joy.
The Secret to Viewing Art
Sighted friends may wonder why a blind person would even consider going to an art gallery if they can't see the artwork? Like Pivi's frolicking polar bears, it's the interaction, the feeling prompted by being spontaneous and learning to show and tell a story together that sparks the heart and imagination.
It's finding those special places where you can actually touch the art!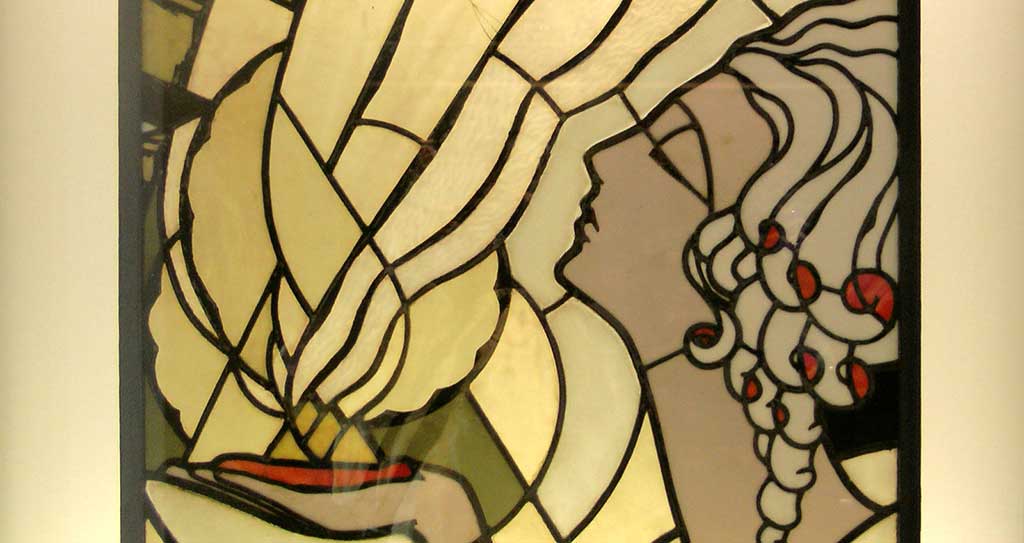 Links of interest…
View more Multi-media Art by Paola Pivi, Italian-born, Alaska-based artist
National Gallery of Victoria (NGV) exhibitions
Hadley School for the Blind free seminars worldwide
You might also like to read:
· Touching the sights of France
· Barcelona – all wrapped up in a bag
© 2014 Maribel Steel All Photos © Harry Williamson 2014