If you were told by a well-meaning friend, "You need to get a white cane", when you think you are coping just fine with your vision loss, do you think you would do it?
Could you step out in faith and embrace the challenge?
How would you feel about moving between the two worlds of once being fully sighted to a land of shadows as you approach the crossroad leading to yonder darkening horizon?
For me the thought of taking up a white cane as an advertisement to the world that I had crossed the threshold and was moving towards the landscape where blindness resides was certainly one of the most difficult challenges of my life!
Amy Bovaird – NEW BOOK RELEASE!
That is why I can highly recommend Amy Bovaird's 'hot-off-the-press' memoir, Mobility Matters: stepping out in faith as a book to read to be completely reassured. Amy writes with remarkable honesty about how she grew to accept the transition from the natural denial and fear we would all face to retrace those first months of white cane training with courage, humour and faith.
Amy didn't simply 'step out' – she jumped right in!
Mobility Matters: Stepping out in Faith The BOOK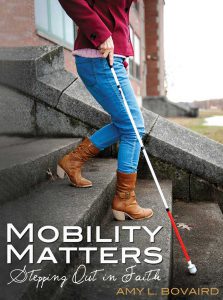 "Adventurous international teacher, Amy Bovaird, is diagnosed with Retinitis Pigmentosa, a hereditary eye disease that will blind her. In spite of that, she manages to continue teaching overseas. Then her father's final illness brings her back home for good. There, friends and acquaintances begin to notice that she doesn't always recognize them and sometimes stumbles…as if drunk!
Insensitive students ridicule her in the classroom. Unwilling to accept that she is truly losing her eyesight, Amy resists when the Bureau of Blindness schedules a mobility specialist to begin training her to use a white cane….."
Link to Amy's blog and get a free chapter download
http://amybovaird.com/mobility-matters/
Mobility Matters because we all need to know how to maintain our sense of independence and how we can truly stay afloat the current of change.
From the moment when Amy was able to replace the demons of doubt with a belief in a spiritual trust, she saw her cane training as 'faith training.'
"Blindfolded, I envisioned myself stepping out in faith each time I left the house. My faith walk has lasted through two additional instructors and goes wherever I go everyday. It all started out with that first hesitant step and sweep of my cane."
When Amy asked me to preview her upcoming book, it felt like a real privilege, as if being given permission to peek inside her private diary. Knowing that she was offering it to me in its pre-published final draft was both exciting and daunting.
Exciting, because I wasn't sure what I would find among the two hundred or so pages on a topic so close to my heart: and daunting because of the responsibility to my friend. What would happen if I didn't like it?
I set to work on reading through Amy's book from the viewpoint as an editor and proof reader, keeping an eye out (using my CCTV and screen reader), only to find myself as the reader being so drawn into her story more and more, I couldn't put it down!
I wrote this review on Amazon:
In Mobility Matters, Amy Bovaird steps out in great faith to embrace her life as she moves between the two worlds of being sighted to being partially blind. Confronted by the need to accept long white-cane training to maintain her sense of independence, she meets a highly encouraging trainer, a totally blind man, who naturally challenges Amy at every turn. She is determined to learn what it means to be blind and 'to get it right', always aiming for a 20/20 attitude!
Amy faces every obstacle with inspiring honesty, upbeat focus and a gorgeous sense of cheeky wit. Her story is a wonderful testament of how we can all rise above the difficulties when we choose to see the blessings life brings – especially when our mobility matters…
*
In celebration of International White Cane Day on October 15th 2014, why not pop over to Amazon and get a copy of Amy's beautiful memoir?
Mobility Matters – Stepping Out inFaith
Kindle $3.95 Paperback $15.26
About Amy Bovaird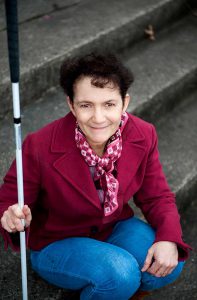 Although Amy suffers from a dual disability—progressive vision and hearing loss—she continues to enjoy running, hiking and traveling. She also volunteers with local and national animal rescue organizations. Amy blogs about the challenges she faces as she loses more vision. But more importantly, she shares the lessons God reveals to her through her difficulties.