"Surrealism is destructive, but it destroys only what it considers to be shackles limiting our vision."   Salvador Dalí
The long weekend in Tossa de Mar passed all too quickly. At an early morning breakfast (8.30am by Spanish standards), we savoured the ritual delights of a buffet of croissants, a little bit of Spanish ham and a little bit of cheese. While the simpatico manager at Hotel Capri poured fresh coffee into our white porcelain cups, he told us how much he loved living in this small town, his soft voice, as sweet as honey, enticing us to return again one day.
"Claro que si! (of course)", I gushed, my Spanish heritage calling to my heart.
Harry and Mike left me chatting and went to pack up our black Renault. Looking out from the back seat, I wound down the window and sent a kiss to sail away on the warm Costa Brava breeze, "We'll be back, te prometo," I whispered as the car zoomed through the Catalonia region of northern Spain. The top gear team sped off on their mission to the town of Figueres, allowing an hour to arrive in Dalí country.
"So what's so special about this Dalí guy we're going to see?" Mike asked from the navigator's seat, his hand delving into our picnic basket and grabbing the chocolate croissant the manager at the Hotel had gifted to him to continue the journey, knowing that our son was steadily gobbling his way through Europe.
"You'll see," said Harry, his eyes fixed on the road.
"It's hard to explain," I added with excitement.
Harry and I were under no illusion: it was a 'must do' to visit the Teatro-Museo Dalí on our way back to France, via the Pyrenees and aiming for the gypsy heart of the Camargue.
I squinted at low-flying clouds, a breeze ruffling my face from a half-open window, wondering if I would see any of the exhibition at all. I had read that there were over four thousand pieces of the prolific artist's original artwork in the old theatre, now a renovated gallery and Mecca for tourists to experience Dalí's eccentricities.
In a faint endeavour to prepare myself for the disappointment of not seeing anything – having Retinitis Pigmentosa, one can miss an elephant crossing the street but see a tiny slip of plastic on the floor – I embraced the thought to be happy with simply tapping in the footsteps of Salvador Dalí to make my day.
I knew too that my sighted companions would do their best to describe some of the art pieces. So if my eyes failed on this occasion, we could always blame the shackles limiting my vision as a chronic case of surrealism!
Timeless Dalí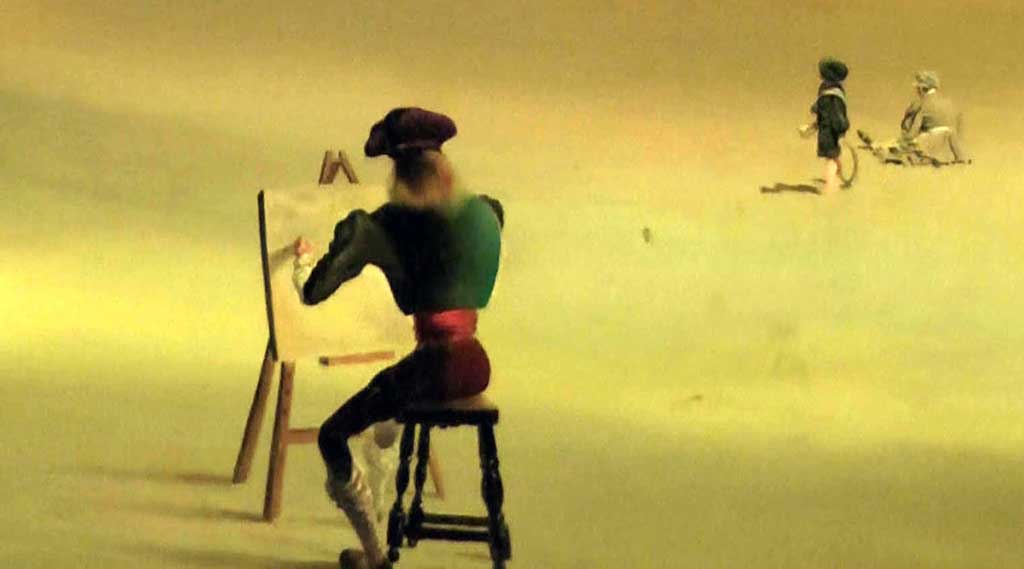 Salvador Domingo Felipe Jacinto Dalí began his life in the shadow of an older brother. Born in Figueres, Girona, on May 11 1904, he learned at the age of five that an older brother had died nine months before his birth. His parents, claiming him to be his brother's reincarnation, christened Dali with his brother's name which so disturbed the young boy, he spent his tumultuous life striving to realise his own sense of identity.
By the 1930s, Dalí had discovered his own artistic style, influenced by one of my favourite artists of Cubism, Joan Miró, who had introduced him to a group of surrealist painters in Paris. With Dalí's unique imagination and flair, he developed techniques driven by his passion to interpret the world of illusionary dreams, provocative three-dimensional art he called 'hand-painted dream photographs'.
Dalí became so obsessed with an illusionary world that it became a continual quest to gain access to the fourth dimension of immortality. He was drawn into using a myriad of symbols such as 'soft watches' and melted clocks that were influenced by Einstein's theory – time is relative and not fixed. One of Dalí's most famous paintings, The Persistence of Memory (1931), was inspired by the artist observing a piece of Camembert cheese melting in the blazing heat of a summers' day!
Together with his wife, Gala (who was another very intriguing personality), the couple capitalized on Dali's artistic 'genius' and outrageous flair for self- promotion which put him at the forefront of the Surrealist movement in France.
"Every morning upon awakening, I experience a supreme pleasure:
that of being Salvador Dalí."
All a brilliant Illusion!
We arrived in the town of Figueres after a few unexpected detours through villages along the way, driver and navigator having tossed away the confusing road map of Cataluña.

"Over there. That must be Dali's museum," Harry said, waking me from my thoughts. He pointed to a purple-pink building, topped by giant round stones representing hard-boiled eggs with haphazard bumps protruding from external walls, realistic pieces of fired clay in the shape of bread rolls.
"Huh? What the …?" said Mike, not taking his eyes off the Daliesque domed building as we drove slowly past to find a parking spot. A wall of people shuffled closely together in the queue, chatting with cheerful conviviality, and we joined the line curving like a snake around the side wall of the gallery.
Looking for something to do, Harry found a loose pamphlet. "Hmm. It says here that Dalí's museum was once the local theatre where the young Dalí's art was first shown." We shuffled a snail inch forward. "…but it was bombed in the Spanish Civil War and remained in a state of ruin for decades. It wasn't until Dalí and the mayor of Figueres decided to rebuild it as a museum in 1960 and was opened fourteen years later to house the single largest collection of Dalí's work in one exhibition."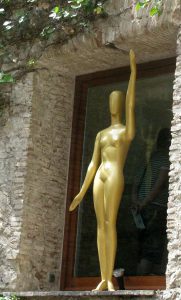 Mike and I gawked at 'Oscar' golden statues lining the entrance and in every alcove of the building, sensing we were about to experience the 'strange' as we passed by a huge black Cadillac with a giant black woman in it, parked in the foyer and began to wander through the live-catalogue of Dali and Gala's past.
It was a pleasant surprise to find the museum brightly lit in places by a glass dome in the centre. Every corner, nook, hallway and cosy room held a fascinating glimpse into the workings of the surrealist's illusionary world.
Dalí often used Gala as his muse as a model for many of his paintings and sculptures, which became obvious as we toured their home. Even though her real name was Elena Ivanovna Diakonova, he called her by so many affectionate derivatives, it is no wonder he could be so inspired to interpret her form in so many dream-like images.
"I name my wife: Gala, Galushka, Gradiva; Oliva, for the oval shape of her face and the colour of her skin; Oliveta, diminutive for Olive; and its delirious derivatives Oliueta, Oriueta, Buribeta, Buriueteta, Suliueta, Solibubuleta, Oliburibuleta, Ciueta, Liueta."
And when his wife got so angry and roared like a wildcat, Dali dared to call her 'Lionette' (like the Metro-Goldwyn-Mayer lion). It was most probably at these times when Dali had to ask Gala by requesting in writing her prior permission to be allowed to visit her in the castle at Púbol, their home in Gerona HE bought her as a gift!
Larger than Life
Dalí's art greets you like a smack to the senses. Harry was drawn to film the museum at his pace so Mike and I went in search of art pieces I might be able to see. Paintings, drawings,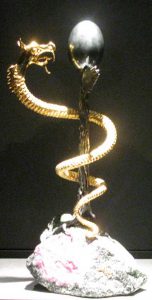 sculptures, statues, ornate models, melted-gold coins, snakes, crosses, jewel-encrusted mirrors, many fine pieces lit up under glass.
"I was fascinated to discover how many different combinations of media Dali worked in through his life" said Harry, hurrying from one of the many rooms to the next, tripod in hand. Harry told us later:
Apart from the early ink line drawings, and then oils for which he is most well known, there is a myriad of objects and techniques – welding, electroforming, laser holography, 3D moire reconstruction, a lot of plaster, wax, furniture, musical instruments, busts, stuffed animals, exquisite silver dragons contemplating their own eggs drawn from a wide variety of minerals, silver mirrored bottles making sense of anamorphically distorted drawings, 3D colour separated images, pixilation.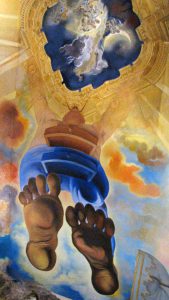 "He really pioneered wild collisions of expression in so many ways" said Harry.
He was particularly drawn to the fractal nature of the golden electroplated phones and exchange equipment which he had noticed while electroforming vinyl masters – a small change in conditions creating a large effect down the generations, like the effect of DNA, but in metals.
This man's accomplishment is staggering, and so much more beautiful to see in his purposefully decorated theatre.
The Illusionist
"What's that?" I asked repeatedly as Mike stood staring at a myriad of objects.
"I can't really say," replied Mike, scanning his eyes back and forth trying to understand the double-images superimposed on canvas, unable to describe the scenes inspired from Dalí's meditative state. "It's like a trick to the eye. Sorry Mum, this guy is like an illusionist."
Hmm. No wonder Alfred Hitchcock had invited Dalí to Hollywood to work his illusionary skill in the dreamlike sequences in the film, Spellbound – my son was certainly transfixed by his magic!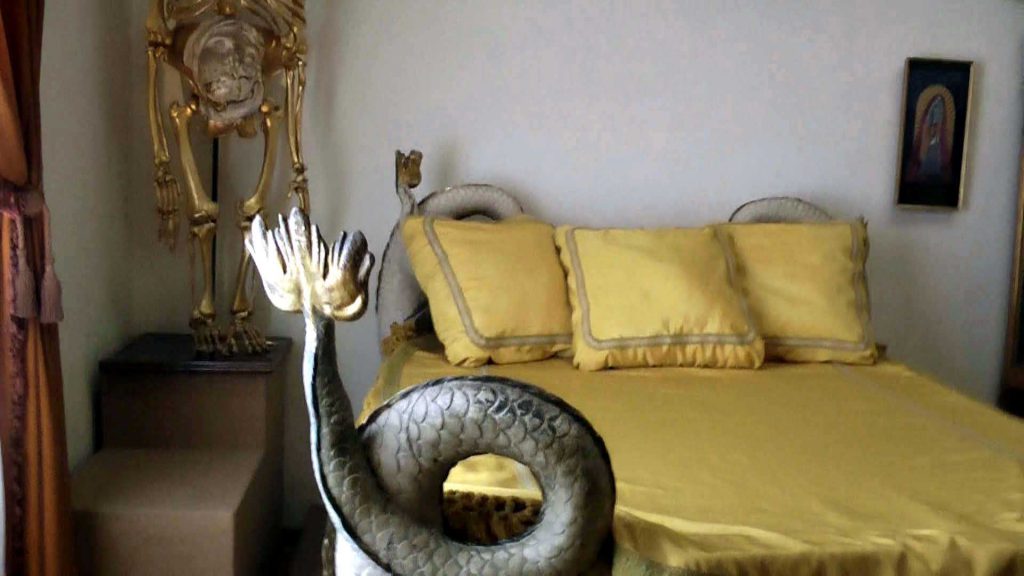 I too was touched in a moment of unexpected intimacy in Dalí's presence when we moved through his elaborate boudoir. Larger than life he seemed, his smile came beaming towards me to catch my attention as if to say, It gives me great pleasure to welcome you as my guest, Señora, and to see so many of you in my home admiring my work. I believe that as the viewer, you bring reason to my art and are the ultimate artist!

Two hours weaving in and out of dozens of rooms and hidden courtyards did not do the works justice but we had to move on. A three hour drive lay ahead and first we had to find Harry!
Luckily, we had made an arrangement to meet outside at one of the cafés where the three of us sat basking in the sunshine to regain our senses (and where Mike could tuck into a Spanish pizza).
For the little ones, the original Chupa Chups lollipop logo was designed by none other than Señor Dalí.
Forty minutes later, we were saying goodbye to Spain, caught in a spectacular thunderstorm while driving through the Pyrenees, with pelting rain lashing at the windscreen. The three of us desperately wiped away the condensation from the car windows to see the sodden fields outside overflowing in a dramatic surreal landscape.
A treat to see Senor Dalí
We were greatly inspired by visiting the museum in person and have a wonderful treat to offer you! Harry has put together a five minute film to a piece of his original orchestral music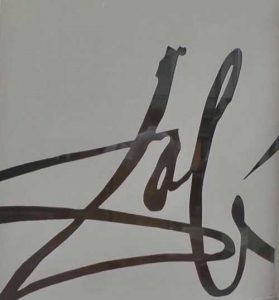 to go with our sojourn in the world of Dalí's surrealism – all you have to do is click on the link, sit back and enjoy the adventure into another world – if you dare to take a peek inside the mind and dreams of Salvador Dalí.
You may also like to read Tossa de Mar – A Touch of Serendipity
Tapping in the Footsteps – Youtube
©  Maribel Steel
Photographs and film ©   Harry Williamson