after our first hectic week in Paris, we stumble across the second oldest town in France, a township tucked away on the far south coast known as the Black Pearl of the Mediterranean. Founded by the Greeks in 580 BC, Agde is one of the best-kept secrets in countryside France – until now.
On the fast TGV train southward bound, tidy carriages hum past paddocks at a comfortable speed of 300 km per hour. I spy, with my very little eye, hazy-green pastures speckled with white blobs every now and then which Mike informs me are nothing more interesting than French cows. Over a hot coffee and crusty croissant, Harry paints an audio picture of the scene flashing past the window in fast forward motion. Fields of golden sunflowers zip by, followed closely by towering windmills…masses of solar panels…acres of olive groves…pine tree hedges…row upon neat row of grapevines…travelling into a clear blue horizon where red poppies cover the ground under dying fruit trees in parched paddocks… "Next stop: Agde!"
Yikes! We bolt out of our seats and jump onto the almost deserted station platform. Mike kindly takes on the role of pack-mule, dragging the two suitcases as we fall into single file behind Harry's bouncing camera box-on-wheels (topped with his ukulele).
Tap-tap-tapping the white cane, on a gloriously sunny day in the south of France. The wheels of our suitcases rumble purposefully along the serene bank of the Canal du Midi, boats moored on either side of the river Hérault.
Vibrant cafés spill over with chatty folk and we learn later that we had just arrived on the day the town was celebrating 2,600 years of its existence! If Lewis Carroll were here this day, one could have thought Alice's adventures in Wonderland had their beginnings in Agde because after a delightful pâté and cheese lunch our trio was swept away in the current of surreal festivities.
As if out of nowhere, a collision of sounds filled the town square. Wandering minstrels blew loud trumpets and other clashing instruments as a procession of World War II army tanks and vintage cars rolled past. A French choir in traditional dress sang in sweet four-part harmonies while enthusiastic troubadours strutted their stuff on centre stage banging out Volare…woh-woh…cantare…
History seeps from every corner of the volcanic streets and I sense dubious locals spying on us from behind half-open shutters on second-floor balconies. Harry tells me men stare from bar stools as we sweep past. Just smile and say Bonjour so the locals know we come in peace and with great admiration.
Next morning, we move swiftly along the murky river bank of the Canal du Midi to pick up our boat at Le Bassin. All aboard the Kim Jane, our floating shoebox for the next seven days. Locating the dinky compartments in our laughable 'bedroom', I shove items of clothing into minuscule cupboards while Harry and Mike cast their net at the roadside market stall. Triumphant grins on their return with two bags brimming with local cheeses, smoked ham, fresh crusty baguettes, marinated olives, farm fresh eggs, organic veg and petite bag of Camargue salt, Spanish olive oil and a bottle of Languedoc wine – not forgetting lemon-myrtle jam and croissants for breakfast – guys – what a catch!
With boat and belongings all in order, Captain Harry takes up position as proud helmsman and starts the donkey engine. First-mate Mike scampers on and off the bow, untying ropes, quartermaster-moi lifting her glass in a toast, beaming at passing crew from fellow canal boats as we glide out of port.
Skipper Harry, an avid sailor at heart, watches for oncoming boat traffic, thrilled to be behind the wheel, familiarising himself with the controls and navigational rule book governing this southern waterway consisting of no less than ninety-one locks. Officially opened as the Canal Royal de Languedoc in 1681, it was also known as the Canal des Deux Mers, designed as a shortcut between the Atlantic and the Mediterranean seas, not only to shorten the journey around the rugged coastline but to avoid capture by Spanish pirates.
Our fibreglass tug chugs merrily on the right of the river, I breathe in the dank smell of herbaceous shrubs hugging the bank, the late afternoon holding the last rays of light as the sky mirrors its reflection onto the surface of darkish water. From behind vision-impaired eyes, everything is a contrast of a light something against a darker something else. I see, dimly, the silhouette of tree after tree after tree lining the bank and little else. But my cheeks feel the chill rising from damp ground, my ears attend to the sounds of a purring engine, to birds settling in trees, to the sailors' chatty observations of yonder fields and I contemplate the freedom I feel in not having to use my cane while aboard our floating craft. It is only when hopping on and off the boat when we moor to visit villages along the way that I am as rigid as a tightrope walker, one foot directly behind the other, edging my precarious way along the gang-plank to land on, hopefully, solid ground.

The masterpiece of engineering brilliance we find ourselves floating upon is due to Pierre-Paul Riquet. In 1665, Riquet spent £50,000 of his own money to carry out a real life demonstration by constructing a miniature version of the canal in the grounds of his house at Bon Repos. It is said to have been complete with locks, weirs, feeder channels and even a tunnel that convinced King Louis XIV to grant permission for the project.
Teams of men and women dug the entire canal with picks and spades. Many of the women labourers came from former Roman bath colonies in the Pyrenees where they already understood classical hydraulic methods. The Canal du Midi took only fifteen years to construct, and ironically, Riquet never saw its completion as he died six months (and within four kilometres) of the final stage.
The Kim Jane is winding her way down the peaceful river when, suddenly, the first lock appears, catching the Captain by surprise. Lock ahead – sound the siren! Orders multiply. Mike hops off the moving boat on to dry land by the lock. Dragging the twisted rope from bow to bollard, our teenage first-mate reels in the swaying vessel to fit snugly alongside the towering rock wall. Other boats wait near the holding pen (they don't seem to be making as much frantic noise as our crew) and straighten into a double row all secured by extended ropes. The Eclusier (lock master) pushes several buttons and pulls levers and heavy iron gates close slowly behind the boats with a deep shudder.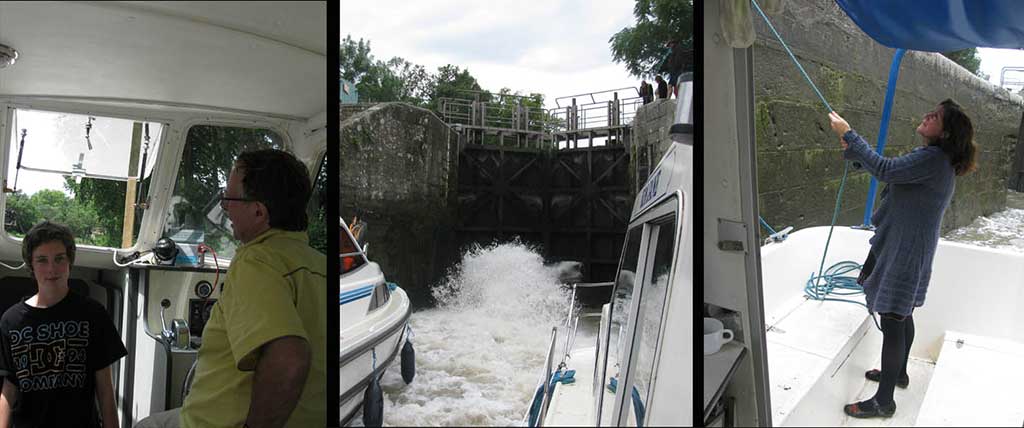 A torrent of water gushes and spills impressively a few metres away, filling the pen and tossing the boats from side to side as if in a giant washing machine. One minute we are looking up ten feet or so watching Mike standing by the concrete bollard with the metal pins that hold our ropes, and as the water level rises quickly, it is only a matter of minutes that our boat bops and bounces and rocks under the swirling current of water to bring the gunwale level with the towpath once more.
Nimble First Mate gathers up the heavy duty rope and hurls it back on deck, jumping onto the side of the Kim Jane still under the orders of the frenetic Captain who is not only madly flicking switches left, right and centre, manoeuvring the old girl (later re-named, the cow) through the precise gap between the rock walls of the basin but is also shouting out commands: hold the rope…jump off the boat…tie the rope…QUICKLY…pull us in to shore…get back on board…cast us off… Well done chaps! The river sailors have conquered their first lock! Only thirty-six left to go before our destination, Carcassonne.
As quartermaster, let me tell you, it is also a hectic life, even if Mike tells you I did very little hard work. Preparing hot meals for the crew in a narrow corridor with a gas stove that has a tendency to blow out in the draft created by the frantic crew during drills is a major challenge. My hands keep a vigilant guard over the precious spaces in our tiny quarters. I arrange the dripping washing so as not to hinder the Captain's view of the winding river. Food must be rationed – bread, cheese and water. Other luxury items are stashed away to ensure that First-mate and Captain do not eat our three day supply in one afternoon! Other seafaring duties consist of brewing fresh coffee, cutting up fruit, putting out nibbles to appease the hungry teenage-sailor, and I too stand at attention at the boat's stern to coil the thick wet rope in preparation for the next lock, bare toes gripping the deck as I move about cautiously so as not to fall overboard!
"Twenty years from now you will be more disappointed by the things that you didn't do than by the ones you did do. So throw off the bowlines. Sail away from the safe harbor. Catch the trade winds in your sails.
Explore. Dream. Discover"
Author Unknown
Next post: Captain faces possible mutiny as crew grow restless aboard the pint-sized river boat…

One hundred thousand travellers a year come to enjoy this World Heritage Site aboard boats, barges, and as cyclists and walkers.
https://en.wikipedia.org/wiki/Fonserannes_Lock
http://whc.unesco.org/en/list/770
https://en.wikipedia.org/wiki/Canal_du_Midi
© Maribel Steel 2012