Harry and I could not pass up the opportunity to stretch our toes over the Franco-Spanish border to set foot on the Catalan frontier of Northern Spain. How could we be this close to my mother's homeland and not show Michael part of his family heritage? Ideally, we would have visited her birthplace in the capital of Madrid but we only had four days and we were lucky to hop, skip and jump across to land on the soft sands of the Costa Brava.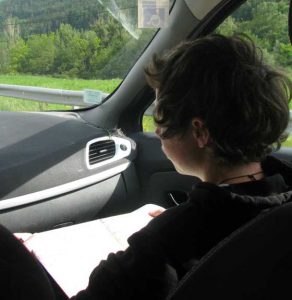 We set off in our hired Renault, with navigator Mike and GPS Sally comfortably installed in the front with Harry. I peer out from the back window, slightly jealous not to be seeing the beautiful scenery as it flashes by. Eager sight-seeing receptors in my fingertips are itching to jump out and grab at objects to complete the visual puzzle for a confused brain. What was that? Harry and Mike are busy discussing the long winding route, conveniently deaf to the torrent of questions gushing from the back seat. I feel like a hyperactive child demanding attention in order to understand the world out there but have to keep impatient hands laced together in my lap.
Feeling the texture of life is, to me, what chocolate is for a sweet tooth. The driving team are well aware of this burning need for my hands to browse over the alpine landscape but although I sense Harry keeping an eye on me in the rear view mirror, I cannot hide my disappointment, my brow tightly knitted with frustration. His reassuring hand reaches over to touch mine, "I'll pull over soon, don't fret." I suddenly smile again, with the thought of bouncing free from this restricted vantage point and postpone discovering the world outside our vehicle until my hands can stray over the textures to 'see' for myself the beauty of the Pyrenees.

Before long, Harry pulls the car to one side to show me clusters of wild flowers springing up in meadows everywhere! Hansel takes his Gretel's hand and leads me through the soft carpet of blooms in this area known as the 'flower garden of Europe'. I don't know which of us is more excited. We stand in a meadow of colour, the abundance of wildflowers tickling our legs, the soft breeze flaunting a sweet scent. I kneel down to put my face right into the bright blue trumpets of gentians, yellow Pyrenean lilies, purple orchids – thousands of them!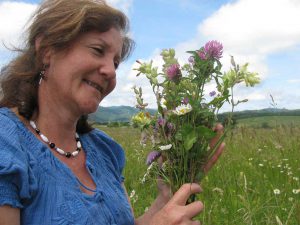 I learn later that there are at least twenty two different species of wild orchids and a plant, the insect eating Butterwort that traps tiny insects on its leaves and excretes enzymes to 'digest' the protein-rich bodies of their unfortunate pollen-admirers. Maybe I won't touch that one.
On one flower pit-stop, Mike and Harry spot a herd of white cattle in a field. I hear the sound of tinkling cowbells and we move closer to watch the antics of indecisive cows wandering in the lush green meadow. Normally, watching cows might be considered as interesting as watching paint dry, but this hefty herd of white blobs parade about, following one leader cow and then change direction to follow a second leader cow – make up your minds, girls!
The result is a hilarious pantomime of von Trapp cows performing their version of the "Sound of Music", contentedly roaming the green meadows, bells jingling in the distance.

Ax-les-Thermes
We continue on narrow roads winding along the path of the Tour de France towards the sulphurous hot springs of Ax-les-Thermes, its healing waters once used by Romans to treat skin disorders. During the medieval era,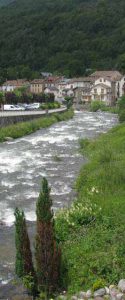 soldiers wounded in battle fighting in the Crusades were also brought to bathe in these hot springs, and hordes of pilgrims made their way through these treacherous mountains to reach the sacred site of Santiago de Compostela – wonder if Harry would like to guide me on that major adventure one day?
For now, we are happy to hum along in our slick black Renault leaving behind the majestic views of the French frontier and blazinga trail along the extensive, and confusing, system of roads of Catalunya.
The landscape of Northern Spain is dramatically different from the tight and narrow roads of southern France. We find it hard to believe that only a few hours ago we were frolicking in wildflower meadows, now we are completely lost on an endless industrial carriageway, trucks of every size thundering past us. Could it have been the misleading sign by the side of the road that read, 'Welcome to Africa' or the fact that GPS Sally decides to quit on the Top Gear team because she informs us she doesn't speak Spanish, that I feel the vibes in our black carriage have changed -a cold wind flows through the cabin.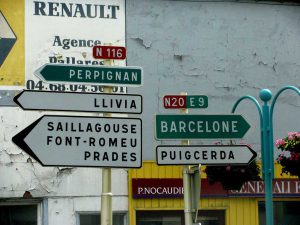 "We're lost!"
announces observant Mike, madly flipping over the road map that ends at the border of France.
"I can speak Spanish," I chirp from the back seat as if that solves all our problems.
"That's not going to help if you can't see the road signs," he fires at me with the delicacy of a blow torch.
"Spell them out to me then." As I squabble with my teenager, Harry is patiently driving round and round in search of a sign pointing the way to the coast. He stops Mike and me from arguing by reminding me, "The road signs are in Catalan. Good luck."
"You never really learn to swear until you learn to drive." Anon
Hmm. Not being one to let obstacles stop me in my tracks, I offer a suggestion that we pull into a petrol station and buy a Spanish road map. As no one else can think of a better solution, we do exactly that. Jumping back into the car, refuelled with another tank of petrol, caffeine and renewed hope, we surge forward on the broad highway. It doesn't take long before navigator and driver discover that the roads indicated on the map have not yet been constructed – welcome to the land of chaos!
With the sense of a fading day, and still being nowhere near our destination, I urge Harry to stop the moment he sees ANYONE we can ask for help. We look for signs of life at the tollway entrance but everything is automated. Pushed along in the flow of eight lane traffic, we are compelled to drive on. We become so lost we travel back through the same tollway coming from a different direction – and scramble to find the correct euros to pay our fee twice! It takes three separate attempts with roadside workers to piece together the information we need as I wind down my back window, calling out in rusty Spanish for their kind assistance: at 10pm, it had taken nine hours (instead of four) to reach the town of Tossa de Mar.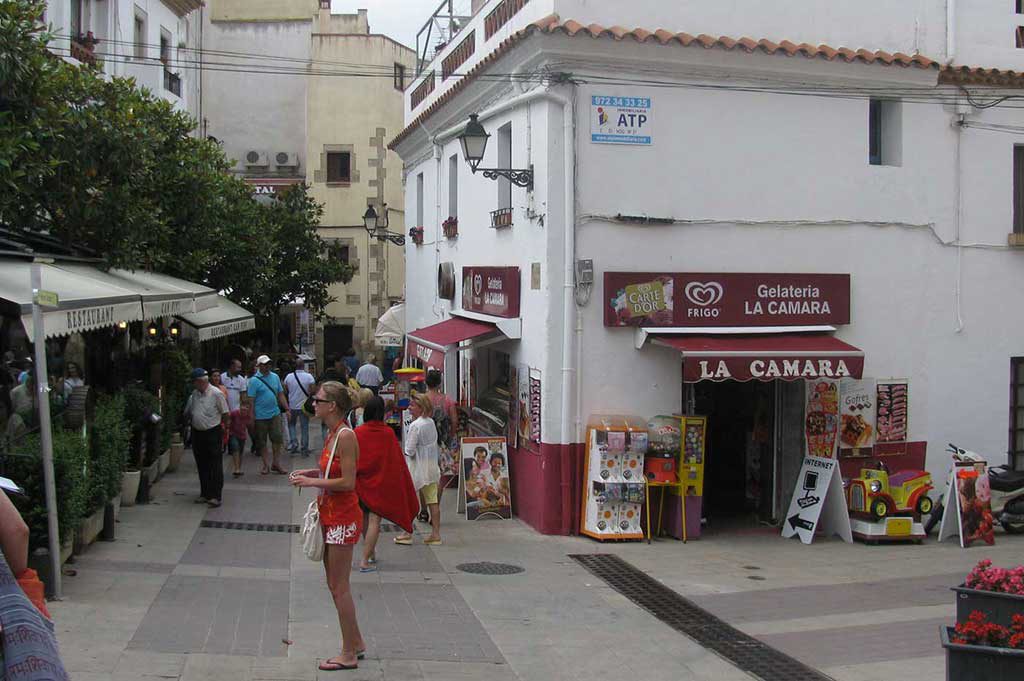 But wait – there's more. We now have to find our seaside hotel in the dark, driving down tiny cobbled streets hardly wide enough for two donkeys. Señora-bel winds down the window frantically calling out in Spanish to the locals walking through the town.
"Por favor. Dónde está el Hostal Cap d'Or ? Estamos….lost!"
With a variety of conflicting instructions, it seems a miracle to finally arrive at the quaint Hotel on the beachfront of the Costa Brava. At 10 pm our crew are understandably fatigued, confused and ravenous, not to mention super-annoyed.
"No, no, you can't park your car there. It's only a temporary space to drop off your luggage."
The streets of Tossa are so narrow, parking spaces are far off at the top of the town. The hotel manager offers a beatific smile at her new arrivals, assuring us it is not that far. She gives Harry a hand-drawn map with faint arrows pointing to the Hotel's carparks…
Oh No! Not another Spanish road map…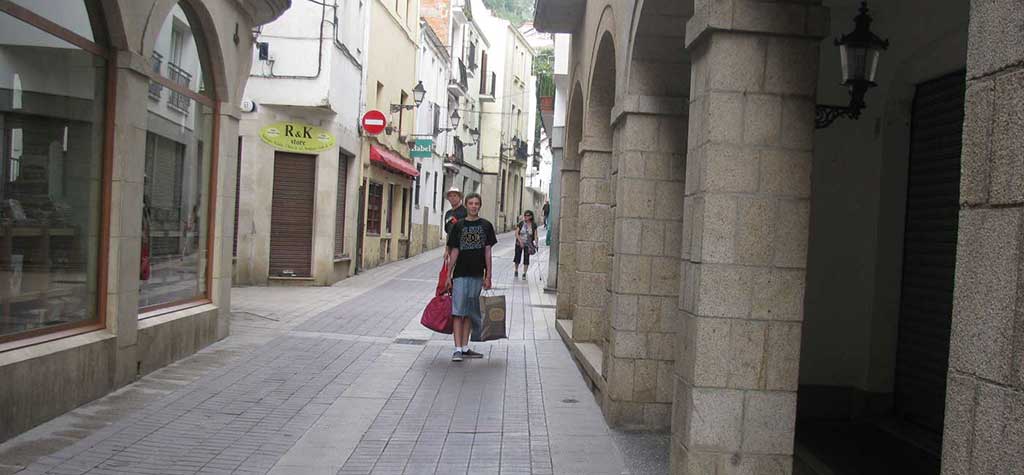 "On the other hand, the Bible contains much that is relevant today,
like Noah taking 40 days to find a place to park."
Curtis McDougall
Next post: Barcelona, the city of beautiful leather handbags, oh, and Gaudi of course.
©Maribel Steel 2012