'Being with you and not being with you is the only way I have to measure time.'Jorge Luis Borges
This is an excerpt from an article published in The Australian Writer that I wrote on the folklore of the wedding ceremony – with an added twist.  Wait guys! Don't rush away, this post is especially for YOU!
Traditional Wedding Folklore as Bloke-law
Many wedding customs we observe today have maintained the threads of superstition from the rich tapestry of English folklore. One might even say magic and fashion have been sewn into the very fabric of the wedding ceremony.
Tip #1:    If planning to surprise her by offering her a genuine c-c-commitment, try reciting this Victorian good luck chant as part of your proposal. It is guaranteed to impress her. "Something old, something new, something borrowed, something blue and a silver sixpence in her shoe."
Be Her Gallant Knight
In the 15th century, Margaret of Flanders wore a wedding dress so heavily encrusted with diamonds and jewels to impress that she was unable to move under its weight and had to be carried into the church by two groomsmen.
Tip #2:    Lucky for you, we are not living in the fifteenth century. Here's your chance to gain prestigious weight when it comes to winning her love: surprise her with a darling piece of jewellery in her PREFERRED revered metal (either silver, gold, white gold). It will pay you dividends to know the difference. AND, if you arrange to have her favourite precious gemstone encrusted in it, well, you'll get to feel what it is like to be her gallant and shining knight!
Take Special Care
There is an ancient superstition that a young bride was considered to be particularly vulnerable on her wedding day. Wearing a long veil to disguise her face was said to outwit wicked spirit beings and her bridesmaids, groomsmen and best men were appointed as guardians for the bride and groom to ward off jealous suitors.
Tip #3:    We are not talking about the male guests being dressed in a more dapper suit than yours to make you feel jealous. If you can keep your wits about you and remember to make your lady-love always feel special, you can't fail to be her Valentine forever.
Good Omens
One wedding trend often embraced by the modern bride is to wear a blue garter on her pretty leg hidden from view as a good omen on her special day.
Tip #4:    Encourage her to plan as many good omens as she desires, just to show her you are a modern guy – cool with all her decisions. So you can still wear the pants but she's going to choose the colour, ok?
The best man was seen as the groom's bodyguard and the young maidens and groomsmen wore identical colour clothing to confuse malevolent beings and jealous suitors.
Tip #5:    Never refer to your future mother-in-law as a malevolent being. Believe me, you'll live to regret it!
Why Stay Close?
The reason why the bride stayed close to the groom's left side is not as romantic as you might think. In doing so, the groom retained his ability to draw his sword in order to defend his young bride from rival suitors.
Tip #6:    Um, perhaps it might be wiser to leave your weaponry at home unless you have made a prior arrangement with your best-man to call the police and get you out of there in a hurry
Vow to Be…
Every aspect of the wedding was steeped in superstition to invoke protection and good fortune – especially to ensure the young bride's happiness in her new home, and to guarantee her fertility and her husband's fidelity.
Tip #7:    In case you need clarification here, fidelity doesn't mean playing with a Celtic fiddle, it's a polite old English word that means  'vow to be faithful'. In other words, if you are planning to book a romantic dinner for two, it is she who is going with you. Yes, EVERY time.
The Bridal Gown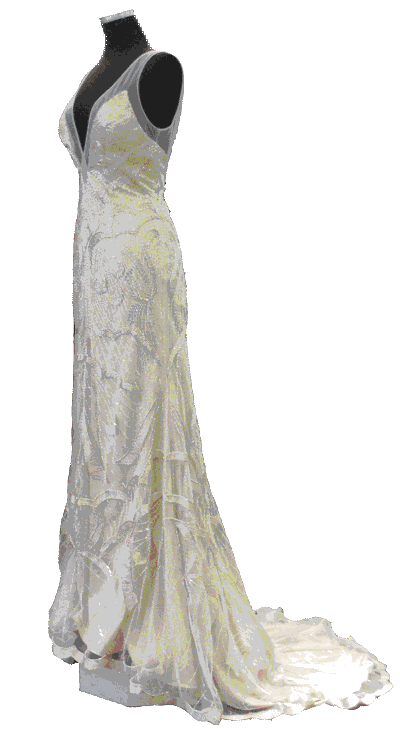 Invoking good fortune was especially necessary when choosing the colour of her bridal gown. "Married in blue, you will always be true, married in white, you have chosen right. But to be married in red, you will wish yourself dead, married in green, ashamed to be seen."
Tip #8:    Oh dear, this is not the time to admit to her that you have read this old superstitious riddle. It's considered bad luck for the groom to know the colour of his bride's dress before the wedding so just tell her she always looks sexy in lacy-white and hope she believes you.
Groom Your Dress Sense
Symbolism in the Groom's Attire is not as important as in the bride's choice of wedding gown (no offence). But, the Groom CAN cut a dashing figure when his clothing complements his bride's beautiful gown.
Tip #9:    Hmm! A bit hard to know what to wear if you are not allowed to ask about the bridal gown. So, to be on the safe side, bring either a red chrysanthemum to place in your lapel which will softly whisper to her heart, I love you…or a white rose which in the language of love says, I am worthy of you. Whatever you do, don't offer her a fake flower unless you like dicing with death!
Wonderful Strategies
During medieval times, fashions were different. Not only was a royal princess adorned in rich red or deep purple velvet, worn to show off a bride's grace and beauty, but the woven fabrics of damask silk and satin intertwined with gold and silver thread carried the statement of wealth and power. The marriage between the two royals was a strategic political arrangement between countries.
Tip #10:    One way to make your own strategic arrangement is to offer to take her lingerie shopping to treat her to some purchases of satin and silk – hang the expense! Now stop rolling your eyes! Yes, you do have to stay in the shop for the entire retail therapy, and yes, she can take as long as she likes.
Tip #11:    If she asks you, "Do I look fat in this?" you must NEVER say Yes, even if it's obvious a trip to the gym might have been more beneficial. Your only response should be, "Honey, you always look great!"  ?  and don't add, "Can we go now?"
Everything Old is New Again
It was Queen Victoria in 1840, who introduced the virtual 'rule' for a bride to wear only white when she appeared on her wedding day, decked out in adorable white silk and Honiton lace. She was also the first royal bride to have her bridesmaids carry the long train – a fashion that radiated all the fairytale qualities for the modern princess.
Tip #12:    So there you have it, nothing you do will sway her from choosing a magnificent white gown that may bankrupt you because every household has to have one princess. It's folklore, you know, and she has her sights set on being yours.
Kudos with Cupid
The final tip to add to your best tips for the modern bloke-law, to make sure Cupid smiles on you and your Valentine forever when she finally says 'yes' to your knight in shining gold, silver or white gold proposal is….
Tip #13:    Ladies may like to be wooed, dazzled, and pampered like a princess but what we really love above any old tradition, is to be thought of every day, where you show us in your own unique way, the magic only YOU can bring into our lives and why you will treasure us forever.
No smashing blokes or dashing young men were harmed in the writing of this article!
Copyright © 2017 Maribel Steel
Photos Copyright © 2017 Harry Williamson